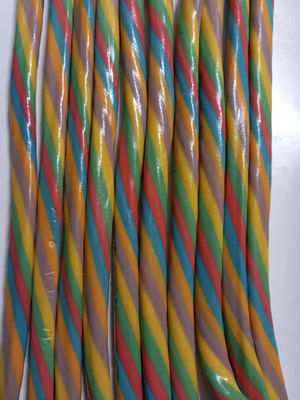 Giant Rainbow Cable
$5.00
60cm long

Sherbet filled and fruit flavoured. A popular flavour with children.
Dairy Free
Ingredients
Acids E270, E296, E330Acidity Regulators E325, E331Beef GelatineColours E102, E110, E129, E133, E171Emulsifier E471 (palm)FlavouringsGlucose and fructose syrupHumectant E422SaltStarchSugarVegetable Fat (palm, coconut)Vegetable Oil (palm, coconut)Wheat flour (gluten)
ALLERGY WARNING: GLUTEN. Made in a factory that also handles milk derivatives.
SKU: 10000-294