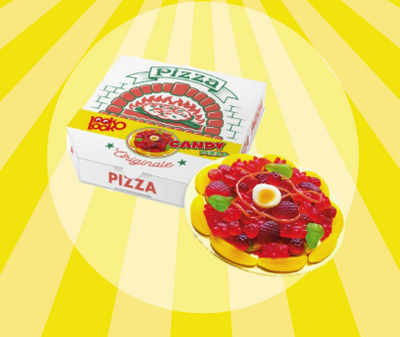 Candy Pizza Large
$8.50
BBD 12/2023
The Look-O-Look Candy Pizza has a diameter of 18 cm, similar to a "real" medium pizza! It is colourfully topped with different types of fruit gums and is presented in the typical pizza cardboard box. Thanks to the easily removable Look-O-Look banderole, our Candy Pizza turns into an ideal surprise gift or innovative present, as the product is not immediately recognisable from the outside as a fruit gum pizza.

Ingredient:
Jelly confectionery with fruit flavour - Ingredients: glucose syrup, sugar, water, gelatine, acids (citric acid, lactic acid), concentrated grape juice, wheat flour, stabiliser (sorbitol syrup), flavourings, gelling agent (pectin), coconut oil, glucose-fructose syrup, concentrates (black carrot, carrot, sweet potato, blackcurrant), palm oil, glazing agents (carnauba wax, beeswax), colours (ammonia caramel, carmine, curcumin, brilliant blue FCF, beta-carotene), sunflower oil, emulsifier (mono- and diglycerides of fatty acids), cocoa butter.

For the latest information on ingredients and allergens we refer to check the packaging of each product.
SKU: 10000-184