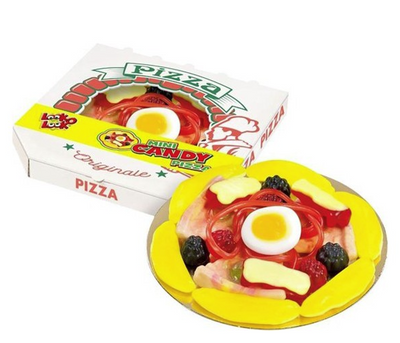 Mini Candy Pizza
$9.00
The sweet Mini Candy Pizza by Look-O-Look is the smaller "sister" of our regular Candy Pizza, has a diameter of about 12 cm, and is also colorfully coated with different types of fruit gums. It is presentedin the typical pizza cardboard box. Thanks to the easily removable banderole, the Mini Candy Pizza turns into an ideal surprise gift or innovative present in, as the product is not immediately recognisable from the outside as a fruit gum pizza.
Glucose syrup, sugar, water, gelatine, acids (citric acid, lactic acid), WHEAT flour, concentrated grape juice, glucose-fructose syrup, flavourings, thickener (pectin), coconut oil, colours (sulphite ammonia caramel, vegetable carbon, carmine, curcumin, brilliant blue FCF, paprika extract, beta-carotene), palm oil, humectant (sorbitol), glazing agents (carnauba wax, beeswax), sunflower oil, concentrates (sweet potato, black carrot, elderberry), emulsifier (mono- and diglycerides of fatty acids), cocoa butter.
For the latest information on ingredients and allergens we refer to check the packaging of each product.
SKU: 10000-487